Main Menu
Home
 
 Discover Iowa

About Us

Advertise With Us

FAQs

Why Shop Locally

Coupons & Specials

Link Exchange

 User Panel (Login)
 
 Add your listing
 
 Compare Listing Options
 
 Contact Us
 
 Admin Panel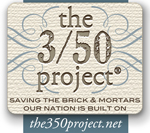 Why Shop Locally?
The Power of Choice of Course
Every time you make a purchase, you're exercising your individual power of choice. You have the power to strengthen and enrich your community by using local resources instead of purchasing these services or products from vendors outside your local community. The internet is a powerful tool that we all like to use to find various products and services online, but now that ShopIowaOnline.com is here, you can use the internet to find those products and services in your backyard, thus helping to enrich your local economy. If you know a business owner or are a business owner yourself, this should make perfect sense.
Did You Know?

For every two jobs national retailers bring to a community, three jobs are lost as a result of local businesses closing down.
When you shop locally-owned businesses, your money is re-circulated over and over and creates up to 75% more tax revenue to your community and state.
Independent businesses raise the standard of living in your community because they take their profits and buy products and services from other local businesses, thus creating more and more tax revenues needed for the community to thrive.
Millions of dollars of tax revenue subsidies handed to chains by financially-starved local governments drain even more tax revenue from our community and state.
Blighted empty shopping areas are created in your community when chain stores re-locate to a more lucrative shopping center, or leave altogether. Literally hundreds of big stores are abandoned each year across the United States.
Independent businesses are unique enterprises that contribute to the character of our community by offering a more diverse selections of goods and services.
Independent businesses provide meaningful service with a personal touch. It matters to them that you are satisfied and will come back again.
Carefully planned predatory pricing practices have allowed national chains to establish virtual monopolies as they drive local competition out of business. And then they raise their prices.

You can make a difference with a few simple steps

Make a decision to find and patronize a locally-owned business, wherever possible.
Dine at a local, independent restaurant and treat yourself to a unique and personal dining experience.
When you shop online with out-of-state companies, it doesn't contribute a dime to the local economy. So check for members who offer the same products, and some even deliver.
Look for the ShopIowaOnline.com logo when you shop and tell other independent businesses about ShopIowaOnline.com.
Use our business directory to locate businesses offering specific goods or services.
Tell your associates, family, and friends what is happening and why. We all create our communities. Let's create strong and vibrant communities as a legacy for those who follow.
Spotlight Showcase


Support our Showcase Members who help us build better communities.
Advertisers
Featured Listings
Summerset Winery
Soyalux
Block Party Studios
Dairy Queen of Coralville
North Liberty Food and Clothing Pantry
Sorensen's Water Conditioning
City of Marion
SHARE Iowa
Memories on Fifth
Pride of Iowa Market Place
Summer of the Arts
Clear Creek Orchards
Close To My Heart
Memories That Last
Darn Good Soap & Candle Company
Statistics
Listings Active: 3996
Total Categories: 782
Follow Us
Bookmark & Share: