Main Menu
Home
 
 Discover Iowa

About Us

Advertise With Us

FAQs

Why Shop Locally

Coupons & Specials

Link Exchange

 User Panel (Login)
 
 Add your listing
 
 Compare Listing Options
 
 Contact Us
 
 Admin Panel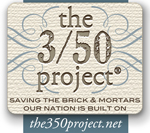 Our Vision
We are part of a growing trend as organizations like ShopIowaOnline.com are starting up across the country. Studies have shown that for every $100 spent in a locally-owned business, roughly $42 remains in their state, while for the same $100 spent in a national chain store, only $13 remains. Consumers have grown leery of the false sense of savings promised by national chain stores, and are becoming acutely aware of the importance of our communities. As a result, an explosion of sorts is occurring here and everywhere, as people look to define a sense of place, community, and quality of life for their families and their futures.

Current environmental challenges facing the world are also driving local economies. Consumers can no longer afford to pay for tomatoes trekked 1,500 miles (at $3.15 per gallon) to the local grocery store. They are seeking out Local Farmer's Markets to buy tomatoes grown right here at home. Spending on local foods has quadrupled in the past 2 years. Average Americans are beginning to understand the consequences of over-consumption and are seeking out and discovering the benefits of "going local." Without local businesses, there is no economy. So why are we doing this to ourselves? The internet is a powerful tool that can make or break local economies especially if the population is less than 100,000 residents.

Our vision was to create a resourceful tool for local businesses to be found online instead of the traditional method like using major search engines that encourage shopping "where ever you can find it". ShopIowaOnline.com is loaded with business listings across Iowa that can be easily found using our "site only" search engine. It's just as easy as using any major search engine like Google or Yahoo but you only get the results returned by our database. You totally control what you're looking for.

Our goal is to make it as easy as possible for you to find local businesses and services in or around your local economy. We also developed this platform because more and more users are turning to the internet to find everything. The rise in local and commercial search is rapidly growing and with a platform like ShopIowaOnline.com, it will be easy to keep advertising costs down to a minimum and at the same time, provide a free method of delivery to consumers.

Let's stay local and ensure that our local communities survive. Make sure you spread the word that ShopIowaOnline.com is here to help.
Spotlight Showcase


Support our Showcase Members who help us build better communities.
Advertisers
Featured Listings
Summerset Winery
Bethany Lutheran Church
Summer of the Arts
SoyLights®
AlphaGraphics
Cornbelt Running Club
BlueStem Winery
River Cities' Reader
Affordable Plumbing & Remodeling
North Liberty City Government
Clear Creek Orchards
Twilight Candles
JJ's Cupcakes and Creamery
Iowa City & Coralville Convention & Visitors Bureau
Hot Wire Auto & Electric Parts
Statistics
Listings Active: 3996
Total Categories: 782
Follow Us
Bookmark & Share: